Best Pulse Oximeters for Home Use
3 May 2023 | Lauren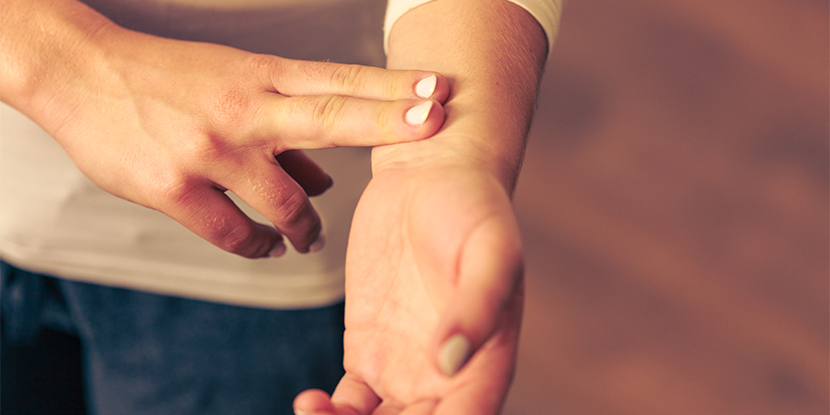 You often see pulse oximeters in clinical healthcare settings, from hospitals to care homes to your local dentist's office. Some patients, however, require use of this device for regular or daily monitoring, and nobody wants to waste time with that many clinic trips.
In this case, patients can use a pulse oximeter at home to self-monitor. There are a wide range of oximeters for residential purposes, and they're pretty easy to use. With portable options available, it's even possible to find an oximeter device to take travelling with you.
What's Covered In This Guide?
What Do Pulse Oximeters Measure?
Pulse oximeters measure and monitor blood-oxygen saturation levels (also known as SpO2), and the pulse-rate of the patient. Some oximeters are also designed to measure Perfusion Index (PI), which is how well the blood is transported to a particular area of the body.
Why Would You Want to Monitor SpO2, Pulse Rate, or Perfusion Index?
Use of these devices is common with patients whose injuries or illnesses effect their SpO2 levels, or their body's ability to effectively transport oxygen through the blood stream. This includes patients who have heart or lung conditions, blood disorders such as anemia, or those who have experienced oxygen deprivation due to drowning, suffocation, or choking.
What Is a Pulse Oximeter Normal Range?
An ideal blood-oxygen saturation level is between 95 – 100%. If your SpO2 level falls below this, it is important to contact your doctor for further medical assessment.
A normal resting heart-rate is generally between 60 – 100 beats per minute. The range of normal for this result can sometimes vary, based on factors such as the age of the patient. For example, children under 10 years old tend to have a higher pulse rate than teens or adults.
Please note: When using an oximeter at home, it's important to understand that it is not a diagnostic tool for untrained personnel. If you feel like there is an issue with your lungs, heart, or SpO2, please consult your doctor.
Which Finger to Use For Pulse Oximeters
The pulse oximeter sensor should be used on either the index or middle finger.
Our Best Oximeter For Children
Children can become quickly overwhelmed when confronted with medical equipment. Luckily, ChoiceMMed have created a fantastic range of paediatric fingertip pulse oximeters with designs that will appeal to a younger crowd.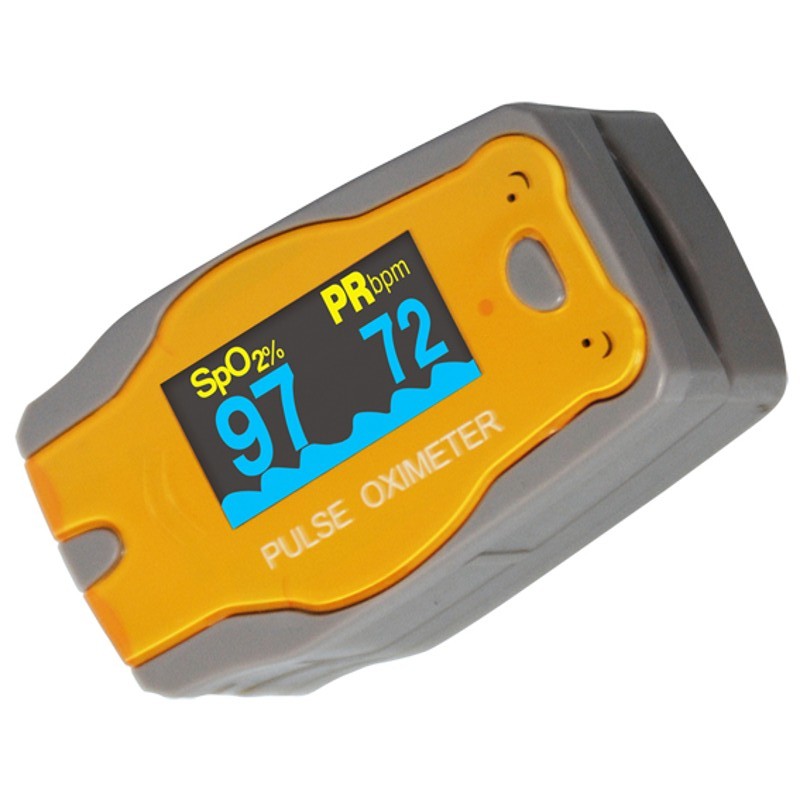 The ChoiceMMed MD300C52 Bear-Design Paediatric Pulse Oximeter is the smallest oximeter in the world, and is constructed to fit thinner fingers. It also features an adorable bear cartoon design, and 360° rotating display screen.
Why Is This Suitable For Home Use?
The portable and user-friendly design ensures that this oximeter is convenient to use wherever you are.
Ideal For:
✔ Monitoring paediatric patients
✔ Patients with smaller or thinner fingers
Not the Best For:
❌ Monitoring adolescent or adult patients (see our solution)
Our Best Portable Pulse Oximeter
You may want to take your oximeter with you so that you don't have to plan your daily activities around your medical monitoring needs.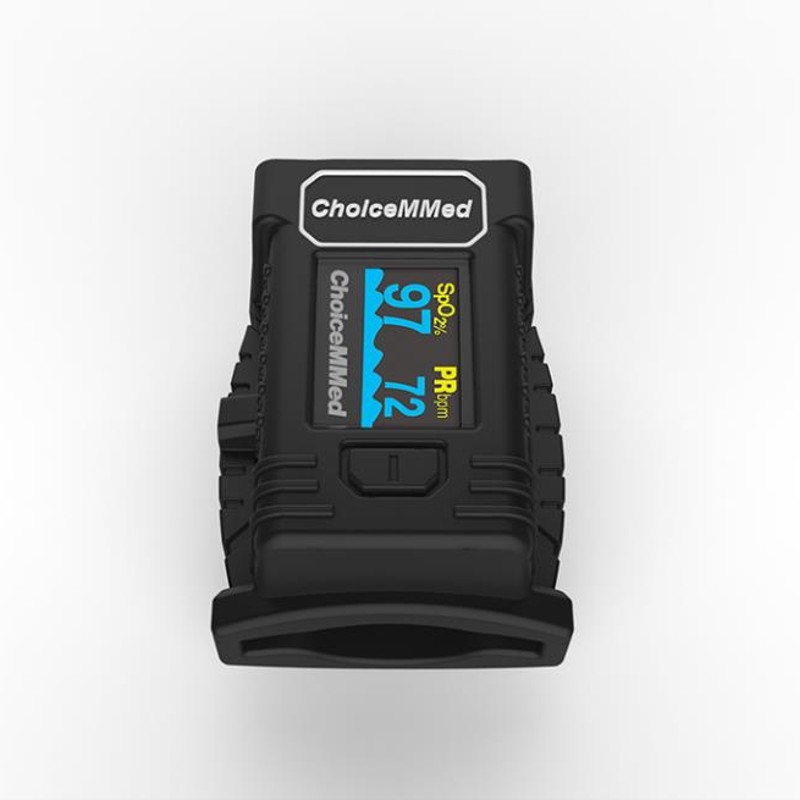 The ChoiceMMed MD300CB3 Compact Fingertip Pulse Oximeter is highly mobile, and comes complete with a lanyard for effortless carrying.
Why Is This Suitable For Home Use?
The compact construction makes this suitable for those who require regular monitoring, but cannot always do so at home due to factors like work. The user-friendly design makes operation a piece of cake!
Ideal For:
✔ Those who work / are away from home during the day
✔ Those planning to travel
Not the Best For:
❌ Measuring perfusion index (see our solution)
Our Best Tabletop Pulse Oximeter
Tabletop oximeters are ideal for self-monitoring or patient-monitoring in a permanent, designated residential location. They tend not be highly portable while in use, but are usually made with a lightweight and compact design that enables easy carrying between locations if needed.
The Nonin 7500 Tabletop Pulse Oximeter provides over 70 hours of memory for effective long-term monitoring. It's also perfect for those worried about losing a more compact device.
Why Is This Suitable For Home Use?
This device fits neatly onto flat surfaces for those who need a permanent monitoring set up in a residential environment. It also includes relevant alarms to notify carers when patients need their assistance.
Ideal For:
✔ Creating a static monitoring set-up at home
Not the Best For:
❌ Travelling and portability (see our solution)
We spoke to Nonin, who said:
"Nonin's Model 7500 Pulse Oximeter was designed with the homecare environment in mind. Not only does the Model 7500 have an industry-leading battery life of 16 hours, allowing for flexibility and on-the-go monitoring for caregivers, it also was designed to withstand continued heavy and repeated use while remaining lightweight and portable." (Euda Arrieta, Nonin Clinical, Training & Education Sr. Manager)
Bluetooth Pulse Oximeter
App connectivity may not seem like an important oximeter feature, but having a virtual storage space for your data can make assessing results over a long period easier. It also makes sharing results with your healthcare provider much simpler.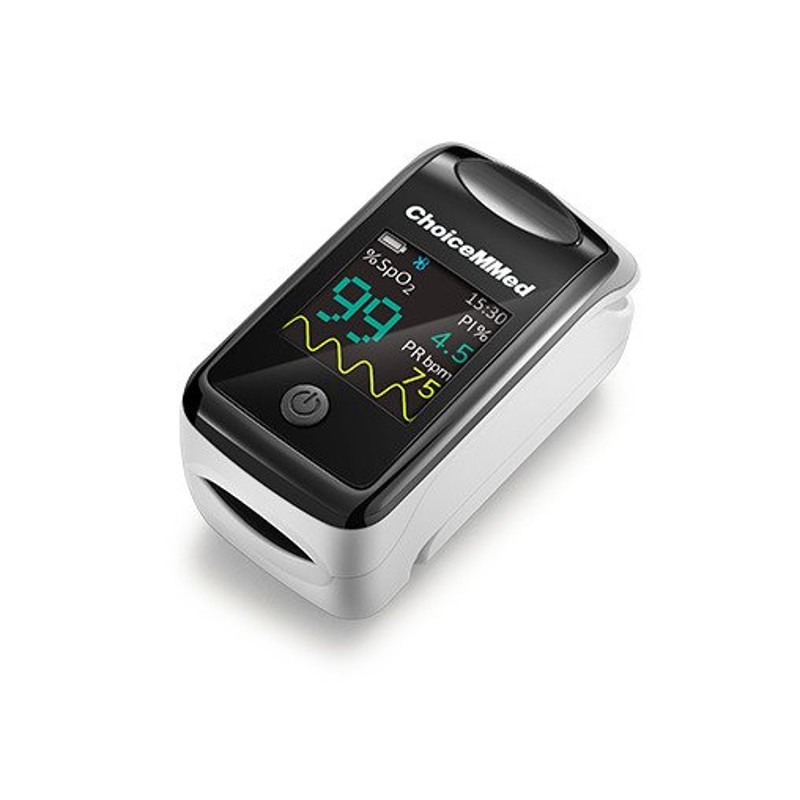 The ChoiceMMed MD300I218 Bluetooth Finger Pulse Oximeter is a highly accurate device that enables storage of health data on the iChoice app. Being able to access this past data can be incredibly helpful when consulting your doctor about potential health issues.
Why Is This Suitable For Home Use?
The device is easily stored and carried, and easily operated using the on / off switch beneath the display screen.
Ideal For:
✔ Data storage during long-term monitoring
Not Ideal For:
❌ Neonatal patients (see our solution)
Handheld Pulse Oximeter
With a handheld oximeter device, results are displayed on a screen that is separate to the monitoring sensor. The set-up of a handheld oximeter device makes it easier to read the results when you are measuring the SpO2 and pulse rate of someone other than yourself.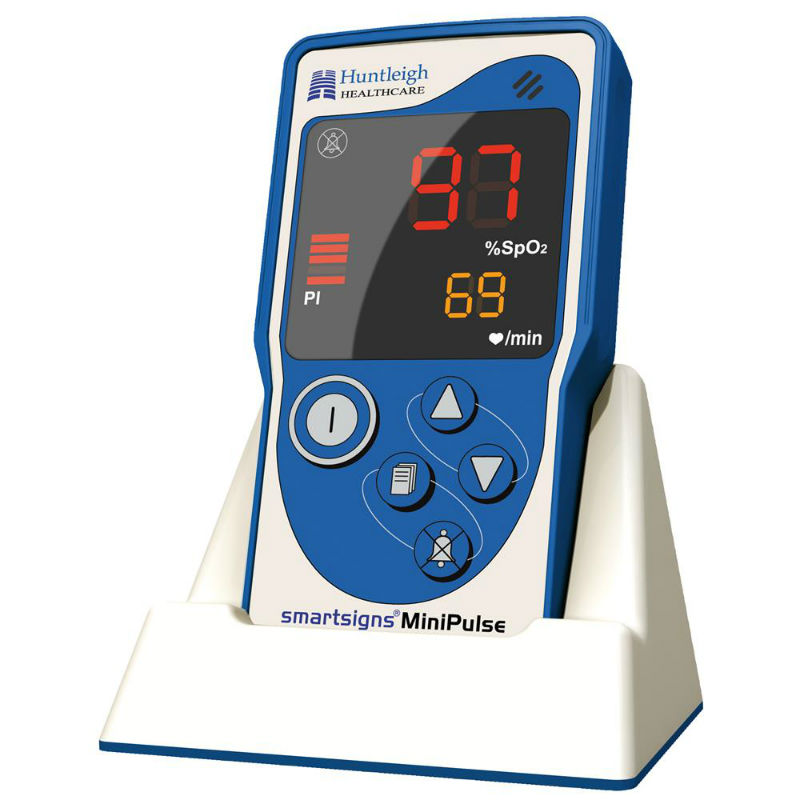 The Huntleigh Smartsigns MiniPulse MP1R Rechargeable Pulse Oximeter comes with a choice of monitoring sensors, including finger sensors for adults and children and a wraps for neo-natal patients.
Why Is This Suitable For Home Use?
This oximeter model comes with an instructions-for-use CD to ensure you can gain a thorough understanding of how it works before setting up your device.
Ideal For:
✔ Those who require a large display screen to clearly see results
✔ Carers looking after patients in a residential environment
Not the Best For:
❌ Compact storage (see our solution)
Perfusion Index Pulse Oximeter
Perfusion Index (PI) refers to how well your blood is circulating in a specific area of the body. A low Perfusion Index could be an indication of health problems with your heart or blood vessels.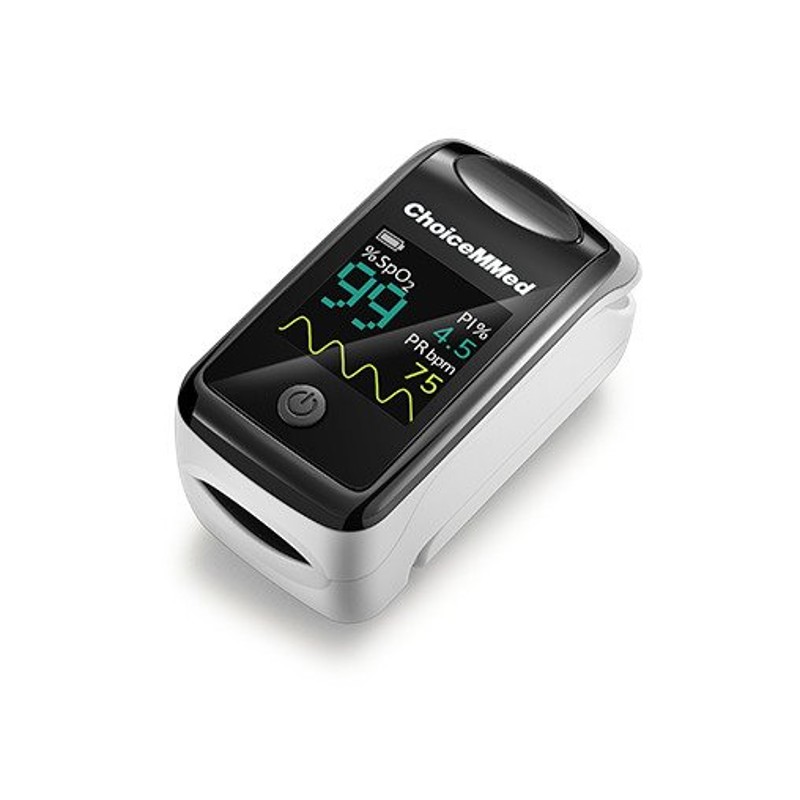 The ChoiceMMed MD300CI216 Automatic Fingertip Pulse Oximeter measures PI, pulse rate, and blood-oxygen saturation levels. The auto-on / auto-off feature means that all you have to do to get started is clip it onto the middle or index finger.
Why Is This Suitable For Home Use?
The simplicity of the design ensures minimal confusion during use, so those who have never used an oximeter before can successfully utilise this model.
Ideal For:
✔ Highly accurate measurements of Perfusion Index
Not the Best For:
❌ Children and neo-natal patients (see our solution)
It's important to keep on top of your health, and the more in-tune you are with your body the more likely you are to catch the development of certain diseases in their early stages. With an oximeter, you can undertake effective monitoring of your heart and oxygen levels to help to detect issues such as COPD, asthma, anemia, and poor blood circulation. Using a pulse oximeter is as easy as it looks, making them fairly suitable for home-usage. With such a wide range of styles and models available, it's always possible to find an oximeter device to match your specific needs.
Haven't found exactly what you need? Click here to view our whole range of oximeters.