Best First Aid Kits 2023
19 January 2023 | Amelia
Whether you're an employer, sports coach or HGV driver, it's your legal obligation to ensure your environment is equipped with the correct tools to administer treatment for injuries during emergencies. Not only can having first aid kit create a sense of security amongst your students or employees, it can also be life-saving!

The law requires workplaces, schools, lorry drivers and more to have a first aid kit at hand
The first aid kit you need may depend on your industry or environment, and with so many great choices, it can be hard to choose the one for you. For that reason, we've put together a list of our Best First Aid Kits, categorising them by use to make your decision-making process much easier!
What Does This Guide Cover?
What Should Be In Your First Aid Kit?
What should be in your first aid kit depends generally on what business you are in. If you are a member of a sports team, using bandages and cold therapy is probably a good idea, however if you work in catering you're better off focusing on plasters and burn relief. The NHS generally advises that first aid kits should include:
Plasters
Dressings
Bandages
Safety pins
Sterile gloves
Allergy creams and tablets
Thermometers
Wipes
Antiseptic cream
Eye wash
Best First Aid Kit for General Use and Home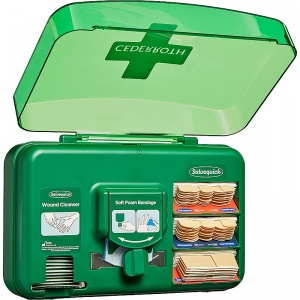 Why We Love It...
✔ Features a wall-mountable construction for easy accessibility and visibility
✔ Stocked with over 100 plasters, wipes and bandages to deal with general cuts and abrasions
✔ Pilfer-proof design supports a reduction in waste and helps manage supplies
Ideal For...
✔ Managing minor injuries such as cuts, abrasions and sprains
✔ Use at home, at work, in leisure centres and more
Not the Best For...
✘ More serious incidents (See our solution)
Editor's Verdict: Supplied with over 100 essential first aid items, the Cederroth Wound Care Dispenser enables users to administer treatment for minor injuries with ease. Its wall-mountable construction increases its visibility in the house, and enables quick access to supplies when accidents occur. With a lockable, pilfer-proof design, parents can restock and manage the outgoings of supplies to contribute to a significant reduction in waste!
Best First Aid Kit for Catering
Why We Love It...
✔ Stocked with supplies to treat general and specific injuries such as burns and eye injuries
✔ Includes biohazard kit to safely dispose of body fluid spillages and keep environments clean
✔ Wall-mountable with photoluminescent bracket header for improved visibility and accessibility
Ideal For...
✔ Food handling environments for optimal safety and quick responses in emergencies
✔ Can be stocked with the Salvequick Blue Detectable Plasters for enhanced safety
Not the Best For...
✘Smaller businesses (See our solution)
Editor's Verdict: Food handling environments are inevitably high risk, and so having a station such as the Evolution British Standard Complete First Aid Point readily available can quicken response times during emergencies. Its wall-mountable construction provides your kitchens and restaurants with a designated first aid space, with a photoluminescent bracket that ensures it remains visible at all times. This station also provides users with the means to treat industry-specific injuries such as burns, and ensures areas such as kitchens and restaurant floors remain contamination free with a comprehensive biohazard kit to dispose of any body fluid spillages such as blood and vomit.
Best First Aid Kit for Vehicles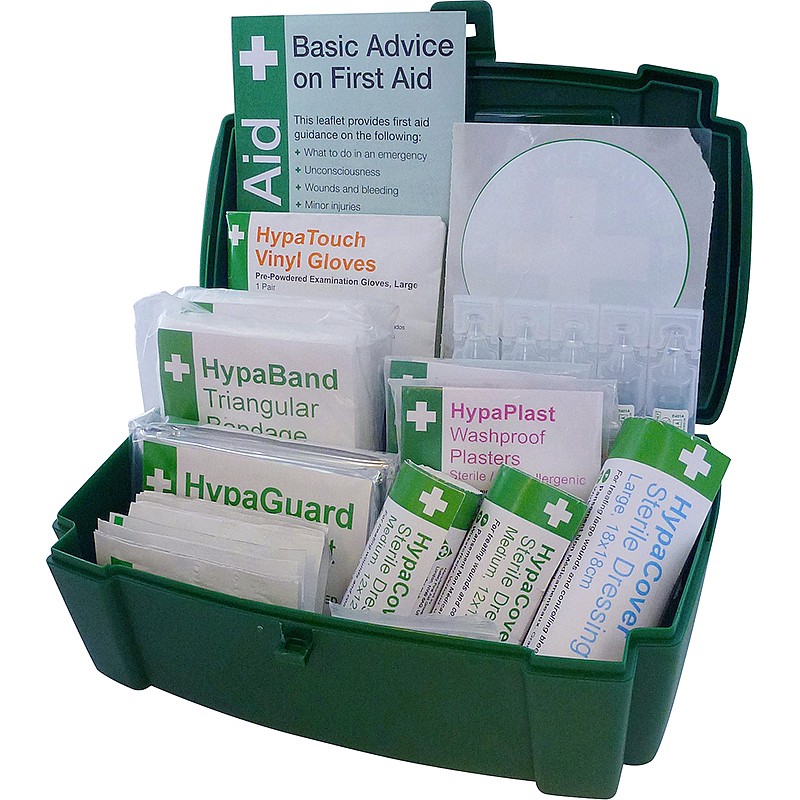 Why We Love It...
✔ Supplied in durable, compact case for convenient storage inside vehicles
✔ Includes foil blanket for comfort and shock recovery after serious incidents
✔ Features a user-friendly first aid guidance leaflet for unqualified responders
Ideal For...
✔ HGVs, delivery drivers and medical vehicles
✔ Unqualified first aid responders
Not the Best For...
✘ Casualties with serious blood loss (See our solution)
Editor's Verdict: Compact enough to be stored comfortably in your glove compartments or under the seat, the Evolution Truck First Aid Kit is an essential investment for all lorry, truck and HGV drivers. Injuries in transit can be quite serious, and this accommodates for that with over 50 first aid supplies, including a foil blanket to help casualties recovering from shock. Should you need to administer first aid for yourself or someone else whilst waiting for emergency services, this kit is supplied with a straightforward guidance leaflet.
Best First Aid Kit for Schools
Why We Love It...
✔ Back board features illustrated first aid instructions for untrained responders
✔ Can be wall mounted for easy access and visibility during emergencies
✔ A5 plastic frame to write the name of 4 first aiders and their location
Ideal For...
✔ School corridors, classrooms and medical rooms
✔ Establishments wanting to comply with HSE regulations
Not the Best For...
✘ Sports teams (See our solution)
Editor's Verdict: Featuring a large, colourful display and a variety of injury treatment options, the Evolution Wall-Mounted First Aid Kit Station (Large) is suitable for treating a wide cohort of students. As well as it's accessible wall-mountable construction, students and teachers are able to locate qualified first aiders on site during emergencies through the A5 frame that provides space to write the name and location of up to four first aiders. From plasters and wipes to face shields and foil blankets, this station has the means to assist in all incidents, whether minor or major.
Best First Aid Kit for the Workplace
Why We Love It...
✔ Supplied with 160 first aid supplies to treat a wide range of injuries
✔ Can be either wall mounted or carried to the site of an incident
✔ Includes an A5 accident book to record patient's account of accident at work
Ideal For...
✔ All workplaces
✔ Full compliance with HSE regulations and data protection laws
Not the Best For...
✘ Smaller workplaces (See our solution)
Editor's Verdict: The Safety First Aid HSE Wall Mounted Workplace Kit helps employers foster an environment that prioritises the wellbeing of its employees. Its versatile design means this kit can be portable for quick use on the go or mounted to your walls for enhanced visibility and easy access to supplies. With over 150 first aid items, employers are able to treat and record a wide range of injuries, from minor cuts and bruises to sprained joints and eye injuries.
Best First Aid Kit for Sports Teams
Why We Love It...
✔ Designed to treat common sports related injuries
✔ Supplied in a portable, water-resistant nylon bag for use in all weather conditions
✔ Includes a resuscitation shield and foil blanket for more serious applications
Ideal For...
✔ Coaches, referees, physios and all sports facilities
✔ Use outdoors - no matter the weather!
Not the Best For...
✘ Cleaning and disposing of body fluids (See our solution)
Editor's Verdict: Whether at a training session or a big competition, it's crucial to have the means to respond rapidly to sports related injuries. The Safety First Aid Sports First Aid Kit includes over 50 comprehensive first aid supplies to treat a wide range of injuries, whether minor or life-threatening. Supplied with a waterproof, compact nylon bag, this bag is easily transportable for away games, use during training sessions, and items can be managed and stored away safely when not in use.
Be on the Right Side of the Law
Choosing a first aid kit for your business, school, or place of public congregation, ensures you're in full compliance with the law. If you want to browse more first aid kits, please view the following categories:
Alternatively, you can browse our First Aid Equipment page for acid and burns treatment, bandages, plasters, ice packs, blankets, scissors and more, while our First Aid Kit Refill Materials page enables you to restock your existing first aid kit.
Do you have anything to add? Let us know in the comments, or find us on Twitter and Facebook!