Benefits of Teeter Inversion Therapy
19 September 2023 | Admin
Do you experience a mild ache or a sharp burning pain, which sometimes feels like a jolt or electric shock when you move? You might be suffering from back pain and spinal issues which could lead to sciatica and other issues of the back, and surrounding muscles. If you're not comfortable with the thought of a surgical procedure to achieve relief from this debilitating pain, we've got good news. There is another way.
For people experiencing back pain, flexibility and mobility issues through compressed discs in the back or tense muscles around the neck, back, and lower back, inversion therapy provides a non-invasive solution through regular and consistent upside down stretches from the comfort of one's home.
For over four decades, Teeter has been manufacturing inversion systems that have helped people with back pain and flexibility issues. In this blog, we would like to introduce you to Benefits of Teeter Inversion Therapy by comparing and listing the best inversion tables currently available in the market. Whether you're looking for a non-surgical solution to chronic back pain or are interested in strengthening your spine and staying healthy, this versatile product recommendation guide can help you find a suitable answer to make each moment a pleasant one.
What's Covered in This Guide?
How Does Inversion Therapy Work?
Inversion therapy works on the principle of using gravity to address chronic pain in the back muscles and spine. By suspending upside down, one is able to stretch the back. This helps in releasing more protective fluid around the spinal discs, removing waste and toxins, decreasing inflammation and increasing overall blood circulation around the discs, which leads to decrease in pain and discomfort over time.
Which Inversion Therapy is for Me?
While the basic premise of inversion therapy stays the same, i.e. requiring gravity to work on muscles, joints and bones to decompress and relax, there are a number of ways in which one can go about it. Two of the most popular ways are either via the use of inversion tables or using gravity boots. In the former, the user is strapped onto a table which is then tilted whereas gravity boots are used to suspend completely inverted from an overhead inversion system.
Best Overall Best Overall Inversion Table for Back Pain
Why We Love It...
✔ Ergo-Embrace ankle supports made with specialty foam reduce pressure for a comfortable fit
✔ Ankle Comfort Dial rotates to a high or low setting for a customised, secure fit
✔ Lumbar Bridge and Acupressure Nodes focuses traction on the lower back
Ideal For...
✔ Users with existing sciatica and back pain issues
✔ Elders who need assistance mounting and dismounting
Not the Best For...
✘ Younger individuals looking for overall health exercises (See our solution)
Editor's Verdict: Designed to provide spinal comfort over consistent and regular use, the Teeter FitSpine LX9 Deluxe Back-Pain-Relief Inversion Table is ideal for people suffering from lower back pain . With an arched base and boarding platform, it makes mounting and dismounting easier for elderly people or those with mobility issues. Its innovative FlexTech Bed, boosted by an 8-point floating suspension system, helps the user achieve a deeper decompressive stretch.
Best Inversion Table for Sciatica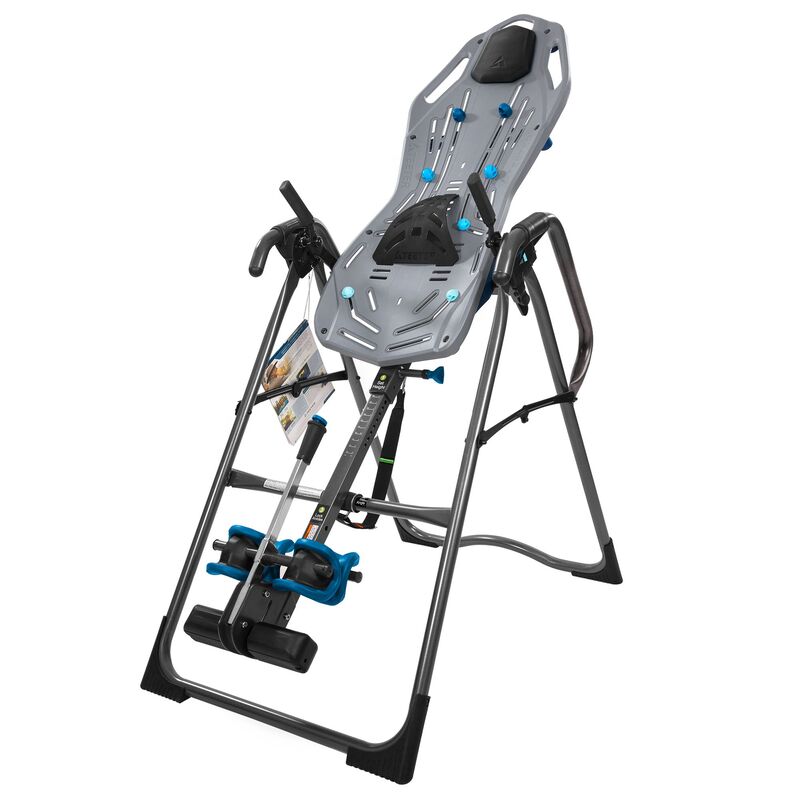 Why We Love It...
✔ Additional handles by ankles and hands to ensure full supported mobility
✔ Adjustable tether with pre-set markings at 20, 40, and 60 degrees of inversion
✔ Extra-long, aerospace-grade stainless steel ankle lock handle for easy securing
Ideal For...
✔ Patients looking for non invasive treatments for sciatica
✔Achieving the best decompressive stretch
Not the Best For...
✘ Elder users who need assistance in mounting and dismounting (See our solution)
✘ People looking for a wider range of exercise options (See our solution)
Editor's Verdict: The FitSpine X3 gets our vote for helping to relieve sciatica and the muscular or skeletal issues more effectively through its smooth FlexTech backrest and flexible 8-point Floating Suspension System, which delivers a deeper full body stretch, allowing you to relax and bringing relief to tense muscles. Additional large stretch handles near the hands and ankles provides assistance and comfort, especially when attaching ankle supports.
Best Inversion Table for Scoliosis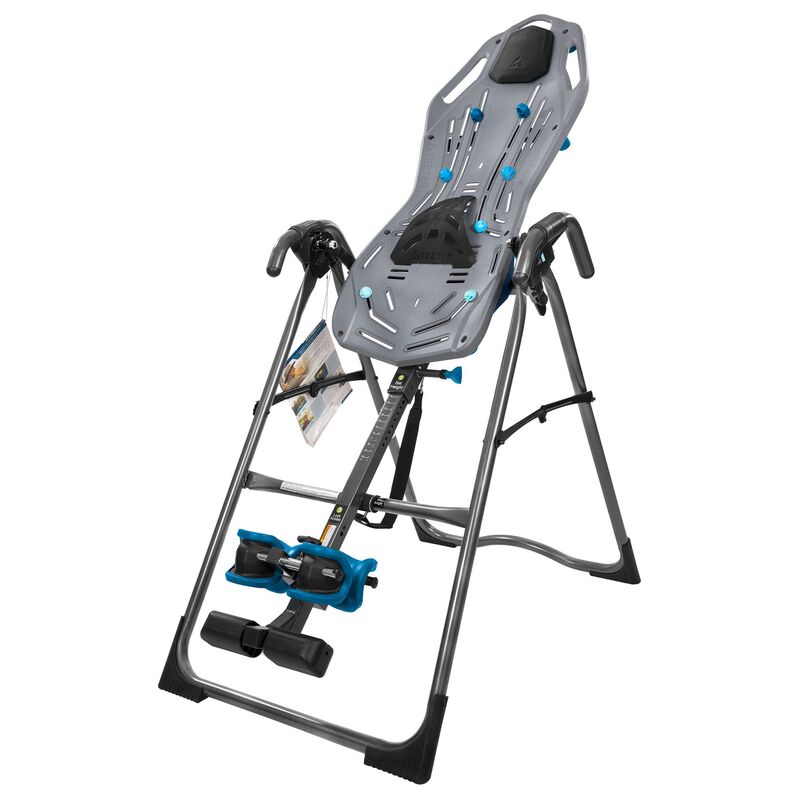 Why We Love It...
✔ Lumbar bridge adds support to the lower spine and helps square hips
✔ Acupressure nodes attach to the bed for trigger point relief where its needed most
✔ Full inversion option lets you lock out at 90 degrees for stretching and exercise
Ideal For...
✔ Users looking for precision balancing with smooth, effortless rotation at any angle
✔ Grip and stretch handholds for stretching and decompression
Not the Best For...
✘ People looking for assistance and stretching options at multiple angles(See our solution)
Editor's Verdict: While there are advanced models on the market, if you are just starting out with inversion therapy, the Teeter X1 is a good place to start. Using the brand's patented technology, it employs the Ergo-Embrace Supports to surround the ankles, ensuring even distribution of weight around the feet and heels. This leads to a more comfortable suspension experience. Another useful feature is the Comfort Dial which adjusts the height of the foot platform according to your preference.
Best Gravity Boots for Back Pain
Why We Love It...
✔ Foam liners provide maximum comfort with minimal compression
✔ Calf loops assist in hoisting yourself up
✔ Dual, self locking ratchet buckles on boots provide a secure system
Ideal For...
✔ Users able to invert without the support of a table
✔ Those looking for extensive back routines and leg exercises
Not the Best For...
✘ Users who do not require complete inversion (See our solution)
✘ Users who require inversion at specific angles (See our solution)
Editor's Verdict: Although it does not explicitly state so, the Teeter EZ-UP Inversion Therapy System is suited more for people who are flexible enough to use the full range of activities available with the rack and the gravity boots. Besides normal chin-ups and push-ups, these also include an array of inverted exercises such as squats, chin-ups and more, which combined with the effect of gravity, help in decompressing the spine and strengthening the back and lower back muscles. The deep bend accomplished through the calf loops on the boots is another feature which can be utilised by users to reduce the load on knee joints and the top of the foot.
Gravity Boots vs Inversion Table
When it comes to choosing between the two, there are no wrong answers as long as you are aware of your existing conditions and the areas you need to focus on. Although they have the same purpose, their method of use is very much different. It all boils down to your preferences and the user experience you are looking for. From an overall view, both devices are exceptionally good at achieving just what they claim but in different ways.
To help you choose, take a look at the table below before arriving at a decision:
| | Gravity Boots | Inversion Tables |
| --- | --- | --- |
| Back Support While Inverted | ✘ | ✔ |
| Can Adjust Degree of Inversion | ✘ | ✔ |
| Full-Body Workout | ✔ | ✔ |
| Adjustable Hand and Ankle Handles | ✘ | ✔ |
| Assisted Mounting and Dismounting | ✘ | ✔ |
| Relieves Back Pain | ✔ | ✔ |
| Calf Loops for Deeper Knee Bend | ✔ | ✘ |
| Foot Rests | ✘ | ✔ |
| Reduced Load on Knee Joints | ✔ | ✘ |
| Takes Up Less Space | ✔ | ✘ |
Who Should Use Inversion Therapy?
Inversion therapy has been tried and tested as a non invasive means to treat issues of the back which affect posture, mobility and flexibility. It may also be able to help you work your way up to other general strengthening, core muscle strengthening and aerobic exercises. Besides being used as a means to a full-body workout and regular exercise platform, inversion therapy can specifically be used by people suffering from the following issues:
Back pain
Sciatica
Muscle tension
Lumbar pain
Degenerative disc disease
Herniated discs
Spinal stenosis
Spinal curvature due to tight muscles
Muscle spasm
Facet syndrome
Choosing the Best Exercise to Relieve Lower Back Pain
In the end, whichever option you feel is right for you, whether it's gravity boots or inversion tables, it all boils down to your preferences, existing condition and specific requirements. You have to make a decision based on all the available options and choices presented before you in our helpful guide.
If you still haven't found what you're looking for on this page, make sure to browse the rest of our Lower Back Pain Relief products until you find the perfect one that suits all your needs.