Pillow with a Hole: The Best Pillow For Care Homes
6 March 2020 | Admin
When you work in a care home, your top priority is your resident's health and well-being. But sometimes it's hard to work out the best way to make a difference to an individual resident's life, which can be due to a number of reasons, such as reduced communication caused by physical illness or dementia. That's why it's a priority to make the available universal comforts the best that they can be.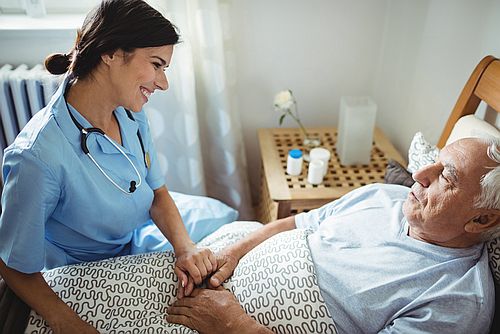 Pillow with a Hole Can Increase Sleep Comfort
Negative Effects On Resident Well-being and Happiness
Residents spend a great deal of time sitting down or lying in bed. Logically, this makes sheets, blankets, duvets and pillows a number one priority for resident well-being. Some residents, however, become at risk of developing painful sores conditions such as CNH due to age, improper sleeping position, and long periods of time spent in bed. Combined with inflammation conditions such as arthritis, these types of circumstances turn into lifestyles, which then greatly hinder a resident's life.
The Original Pillow with a Hole - A Pillow That Puts A Smile On Your Face
We believe the Original Pillow with a Hole is the best pillow for a good night's sleep. With all the comfort of a feather pillow (still hypoallergenic), the pillow cradles your head, providing a soft and unfitful sleep. This makes the pillow ideal for care home residents who:
Develop sores on their ears
Develop CNH
Find their beds uncomfortable
Have difficulty sleeping
What is CNH?
CNH or Chondrodermatisis is a type of pressure sore that forms around the ear. People who are 55 or older and sleep on their side have a higher chance of developing it. As we age our bodies become less adept at healing themselves, and sores manifest when our bodies can't mend the damage to the skin caused by excess friction.
How The Pillow with a Hole Helps Reduce Pressure
The British Association of Dermatologists recommends reducing the amount of pressure on your ear, especially when you're sleeping. The Original Pillow with a Hole achieves this without the long and tedious process of operations and treatment. If you've ever fallen asleep on your back and woken up on your side with a sore ear, you probably know that sleeping habits don't change overnight. By shaping around the ear and allowing space for your ear to breathe free of abrasion, the pillow supports the recovery of your ear.
Why The Pillow with a Hole Is Better Than Ordinary Pillows
These pillows are filled with special 'Ball-Fibre', a synthetic material made of small coils that allow air to pass between, producing loft and comfort. This creates a plump pillow with a medium to firm feel. Not only is it similar in density and cost to feather, but it is also hypoallergenic, which is great for people with allergies.
The 4 Ways The Pillow with a Hole Eases Ear Pain
We've summed up the main ways in which the Pillow with a Hole works:
The hole in its centre relieves pressure on the afflicted area by providing space to breathe
The pillow supports your head whilst shaping around your ear so you can lie without irritation
Hypoallergenic material reduces the risk of allergies and further infection
Protects your ear from needless abrasions when you toss and turn
We hope you enjoyed reading about the Original Pillow with a Hole. If you would like to learn more about improving your resident's sleep, please visit our Sleep Aids category.