Customer Reviews
| | |
| --- | --- |
| Average Rating (2 Reviews): | |
13 September 2022 | John
The instructions lack clarity, and I have as yet, been unable to get the thing working well enough, to form a judgement on it.
This review has not been appraised.
Response:
Hi John,

Many thanks for getting in touch. I've since taken the attached instruction manual and trimmed it down so only the English instructions are visible. You can view them here: Beurer EM80 Tens Machine Instructions

I hope this makes them easier to interpret as i'm aware that before the English section was buried a few hundred pages in. Apologies.

I have also included some sections on our product listing that should explain how the EMS/Tens functions work on a basic level.

I hope this helps. If you have any further questions please don't hesitate to get in touch with us directly.

Kind regards,

Seth at MedicalSupplies.co.uk
16 May 2020 | Andrew
I am really pleased with the capability of the Beurer EM80. Three functions in one compact machine and so powerful.
Good communications from the Customer Service Team, despite the pandemic.
This review has not been appraised.
Related Products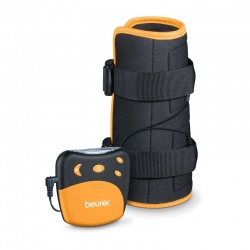 TENS brace for combating pain in the wrist
Suitable for wrist circumference of up to 14cm
Comfortable due to body-fitting ergonomic shape
No contact gel or replacement electrodes required
| | | |
| --- | --- | --- |
| | | In stock now |
---
TENS machine for knee pain relief and elbow pain relief
Comes with two wear-free water contact electrodes
Treat tennis elbow, knee arthritis and other joint conditions
Supplied with four pre-programmed applications
| | | |
| --- | --- | --- |
| | | In stock now |
---
Electronic muscle stimulation (EMS) for muscle training and regeneration
Two separately adjustable channels with four self-adhesive electrodes
Transcutaneous electrical nerve stimulation (TENS) for pain relief
Massages and improves your general wellbeing
| | | |
| --- | --- | --- |
| | | In stock now |