3B Scientific Anatomical Model 10% Off Summer Student Sale!
Tuesday, 30 July 2019
For one month only, we're offering you all of our 3B Anatomy Models with 10% off! Perfect for students going off to university or lecturers preparing for work, this special offer will last until 31st August. Along with your purchase, you will have free access to 'virtual-meets-reality', 3B Scientific's brand new, online training hub.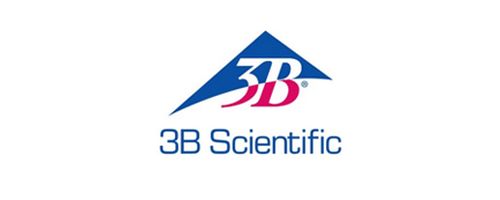 10% with Free App Access on All 3B Anatomical Models
What's the Deal?
10% Off Skeletons, Skulls, Organs, Models and More!
This offer will apply to all of our 3B Anatomical Models, which includes skeletons, bone replicas, body part models and torso. The offer includes MedicalSupplies.co.uk favourites such as Stan the Skeleton and the World's Largest Ear, and lesser known student specials such as the Shorty Mini Skeleton and the Deluxe Skull.
Free Access to Online Courses, Lecturers, Virtual Models, Quizzes and More with Every Anatomical Model Purchase!
While we've been using their anatomical models for training, educating and learning, 3B have been working away developing the newest in anatomical training technology. To launch their brand new 'virtual-meets-reality' 3B Smart Anatomy Programme, you can access to the programme for free with 10% off all anatomy product purchases!
What's the Deal?
Buy any of our 3B Scientific Products and get the following:
10% off all 3B Scientific Anatomical Models
Free access to 3B Smart Anatomy, the Complete Anatomy app for virtual training
Free access to 23 anatomy courses
Free access to 117 interactive virtual models
Free access to 39 quizzes
Warranty extension from three years to five years
For more information on 3B Smart Anatomy, see the heading lower down this page.
On Which Products Does this Offer Apply?
You can get 10% off and free access to 3B Scientific's Sale on all our 3B Scientific Anatomy products. Alternatively, you can click the links below for a more filtered approach.
What Is 3B Smart Anatomy?
As well as 10% off all anatomical models, you will also get free access to 3B Scientific's new app until the 31st of August. This app is designed to close the gap between analogue and digital learning. Through the creation of a 3-Dimensional anatomical catalogue, you can study anatomical models in a way never before seen.
How Do I Get Free Smart Anatomy Access?
3B Smart Anatomy is a brand new educational app and website from 3B Scientific, designed to provide online courses, quizzes, virtual models and lectures about different parts of the body. Perfect for any medical student, doctor or teacher, the Smart Anatomy App is FREE in August to everyone who buys a 3B Anatomical Model.
To claim FREE access to Smart Anatomy, please do the following:
Purchase any of our 3B Anatomical Models
Find the NFC or QR code that will be supplied with your purchase
Scan the NFC or QR code and register your model online
Download your free Anatomy App
Why Should I Use 3B Smart Anatomy?
3B Smart Anatomy promises to bridge the gap between virtual and non-virtual learning. It offers fantastic in-depth one-touch learning that takes you on a journey around the human body. With just one click on Phones, Tablets and Computers, you have unparalleled access to anatomy medical experts and a whole world of training material.
As Smart Anatomy offers users the chance to explore the human body with the touch of a button, it means that it is the perfect educational tool. It isn't just education students that can benefit from this app, as the user-friendly nature makes it as suitable for teachers, lecturers and professional medics as it is for those learning the trade.
How Long Do I Have to Get Money Off?
This offer is perfect for students stocking up on medical supplies before they hit medical school at the end of August. The offer will stretch from the 1st of August to the 31st of August, before both the 3B Anatomy app and the 3B Anatomical Models will return to their usual price.